Summer Fashion Tips With Casual And Cool Clothing In Pakistan
Posted by SHAHZAIB IMAM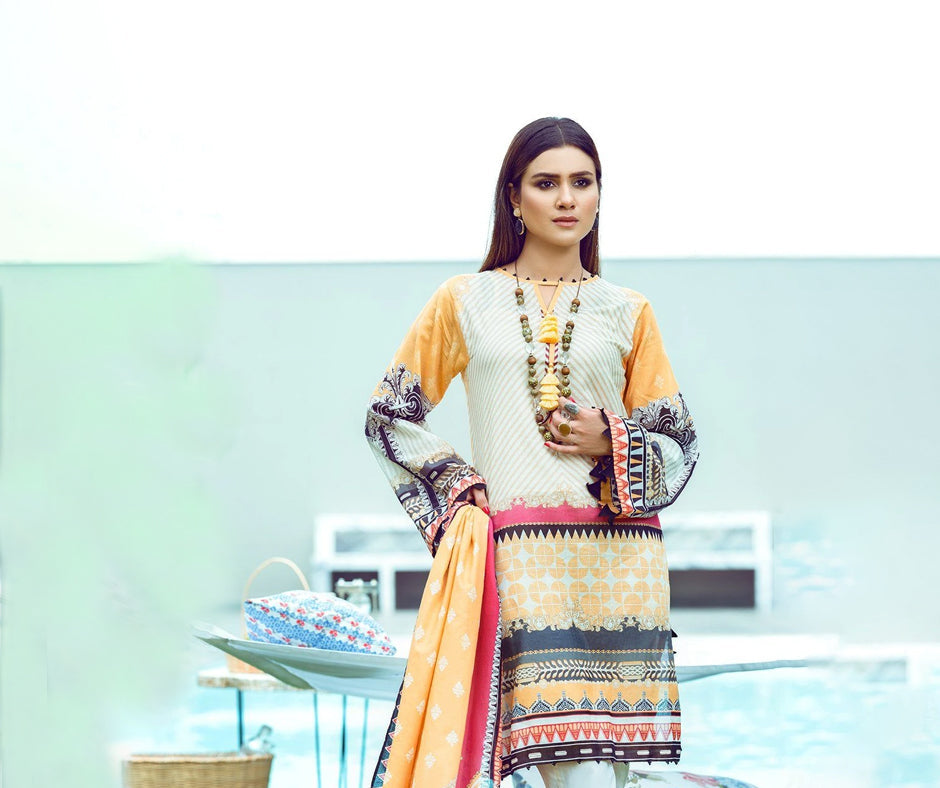 Summer Season is very crucial time of the year, when you can get confused about do's and don'ts while getting dressed for different events or even for your routine outgoing ventures. So it becomes necessary for every girl to have basic dressing tips who want to look cool and refreshing in hot summer heat. Also we all are aware of the fact that our dressing says a lot about our personality. So along with Fashion Trends, keep in mind that what your personal style and comfort level is. All I want to say is that comfort zone must be given top most priority. It is completely up to you whether you want to get dressed in Eastern Style, Western Style or little combination of both while keeping it simple and subtle according to Summer Season.
Selection of Colors:
This year, Summer Season is mostly about choosing right color of your dress. Go for graphic design shirts or plain ones, light color can give you soothing and refreshing feeling in soaring heat.
White is a color that is everyone's favorite in summers and you can't go wrong with it but venture out a little and try to find colors that suit best your skin tone. If you are more prone to sweating during the summer months, then don't worry, try wearing graphic and digital designs of Lawn Dresses that will help hiding those embarrassing sweat marks. The graphics on the front will take the attention away from your armpits, especially if the design of your dress is multi colored.
Rilancio- is a very well-known Online Shopping Store is Best meant for you if you are looking for something best suitable for summers yet trendy and according to your style. They basically deal in un-stitched Lawn Fabrics. You have complete authority to stitch them according to your own style statement. They literally have best designs and playful patterns that are best suitable to comprehend with Summer Season heat.
Casual yet Professional Dressing:
Wearing a decent dress can make a big difference in your day. This is an important tip, so pay attention. Dressing in Professional life is of great importance because you cannot outdo it. You have to keep it professionally trendy yet decent in all manners.
So go for cuts and designs that best suit your personality and place of your work.
Stitching Styles of Lawn Dresses:
If you are one of those who do not prefer pret clothing and want to stitch your outfits according to your style. Rilancio is best option for you to purchase best Spring Summer Collections at affordable prices. Buy the dress and pay attention to stitching styles. Go for Shalwar Kameez, Trousers with straight shirts, palazzo with short shirts or even bell bottoms are also very in this season. You can use laces and little frills on shirts and sleeves of shirts. Feather laces are very in this Summer Season and so are pomp pomp earrings. Ensemble you outfit with complementary jewelry while keeping it simple and minimal.
Protect your Eyes with Cool Shades:
Purchasing a good pair of sunglasses will protect your eyes from the sun while looking stylish. For those who thought sunglasses were only for style are wrong, yes its cool to have your glasses perched on the bridge of your nose but the protect you from the sun. Sunglasses will always be a summer fashion tip because it's important to protect your eyes and the sensitive skin around the eyes, which help you look younger longer without wrinkles. Aviators are a classic choice of sunglasses but find something that fits your face and looks good on your face structure.
Out with the Socks:
Wearing socks during the summer shouldn't be allowed. The summer is hot weather that makes you sweat, including your feet. Who wants to wear sweaty socks? It understandable if you are going somewhere that requires you to wear shoes but sandals are a great choice for summer. Wearing sandals with white socks isn't the same as wearing them barefoot, your feet could use some fresh air too. And of course if you're going to wear sandals, you need to time to take care toes and feet. Collection 2019 Sale 70% Off Title for image